If you enjoy strolling through garden centers filled to the rafters with gorgeous annuals, perennials, shrubs, trees and all sorts of gardening and outdoor living accessories, and you've never been to Dickman Farms Greenhouses & Garden Center in Auburn, New York, above, I can only say that "you have no idea what you've been missing!" There simply is no other garden center in Central New York that comes close in terms of overall strolling and shopping experience!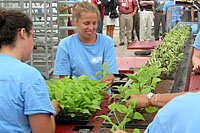 The good news is that I have an answer to this oversight - make plans right now to attend their annual garden show, "VaVa Bloom!"
This year's event kicks off with a Garden Party Luncheon on Friday, March 28th at 12:30 p.m., with proceeds being donated to Baltimore Woods to help send kids to their summer Nature Camp. Those attending the luncheon will have an exclusive preview of "VaVa Bloom," a private tour of the production greenhouses for a behind-the-scenes look, above left, and a chance to learn from several guest speakers. (Note: luncheon tickets must be purchased from Dickman Farms by March 22 for admission to this event. The garden center will be closed to the public on Friday, March 28th to host this event.)
Then on Saturday, March 29th and Sunday, March 30th, there will be a variety of demonstrations, behind-the-scenes tours of one of Central New York's largest commercial greenhouse operations, educational presentations, and plenty of time to simply enjoy spring a taste of spring - even if it's snowing like crazy outside!
I especially look forward to seeing you on Sunday, March 30th!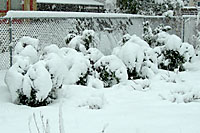 At noon, I'll help you whip your plantings back into shape after another long Central New York winter, at right, during a presentation entitled, Helping Your Lawn, Landscape and Garden Recover From Winter Wear and Tear.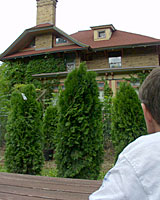 And, once we get everything back in shape, I'll help you look forward to a great gardening season at 1:00 p.m. during my second presentation, Beautiful - and Environmentally Friendly Ideas for Your Landscape and Garden. During this session I'll talk a bit about some of my favorite plants, offer a couple of lawn care tips, and share my thoughts on creating privacy in your backyard, above left, to name just a few of the topics I'll cover.
For more information about "VaVa Bloom", click here.
Meanwhile, for a behind-the-scenes look at how Dickman Farms grows and ships millions of annual bedding plants throughout the eastern United States, click here to watch a series of "Garden Journeys" episodes we taped during a visit in the spring of 2006.