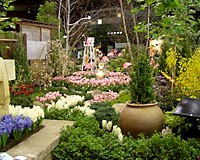 I am thrilled and flattered by the opportunity to serve as one of four headline speakers at the 17th annual GardenScape flower and garden show to be held this coming March 13th through 16th at the Dome Center, just south of Rochester, in Henrietta, New York!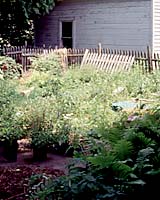 From 11:00 a.m. to noon on Thursday, March 13th, I'll give a presentation entitled, Big Ideas From a Small City Garden. During this session, I'll share our experience of transforming a weedy, rubble-strewn urban lot, left, into a comfortable, colorful, environmentally-sensitive garden. I'll also point out how many of the techniques we employed on a small scale are equally appropriate in multiple-acre suburban and country landscapes.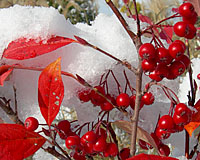 Then, after a quick break for lunch, I'll be back from 2:00 p.m. to 3:00 p.m. to offer a selection of Great Plants For Maximum Impact in Upstate New York Gardens. Over the course of an hour I'll share my thoughts on a collection of trees, shrubs, perennials, ornamental grasses and bulbs that are attractive throughout the year - and very well suited for the rigors of upstate New York. I can tell you right now that one shrub that will certainly make the list is chokeberry, above right!
For more information on GardenScape 2008 and its organizers, the GardenScape Professionals Association, click here.