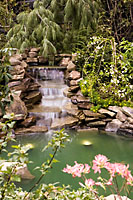 The last weekend of March 2003, was just about perfect!
As a fan of Syracuse University basketball I was thrilled as the Orange squeaked by Auburn University on Friday, March 28th, then baffled the University of Oklahoma at the Pepsi Arena (now known as Times Union Center) in downtown Albany, New York to advance to the Final Four in New Orleans.
And, as luck would have it, the Capital District Garden & Flower Show was also in full swing that weekend at Hudson Valley Community College, pretty much right across the Hudson River from Albany.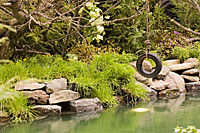 So, with time on our hands, Beth and I spent the Saturday between games leisurely admiring the absolutely stunning floral arrangements just inside the McDonough Sports Complex entrance, strolling the through the competition gardens blended seamless together on the floor of the hockey arena, and finally closely inspecting the wares of dozens of vendors lined up on the floor of the adjacent field house.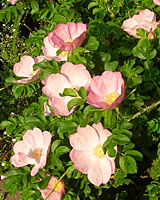 Little did I know then that one day I'd return to the show as a featured speaker!
So, please do make plans to attend this spectacular horticultural event this coming March 28th through March 30th at Hudson Valley Community College. And, join me as I share my thoughts on Environmental Landscape Design from 11:00 to noon on Saturday, March 29th. During this presentation I'll share with you some of my favorite pest-tolerant, low-maintenance plants, such as `Frau Dagmar Hastrup' rugosa rose, at right, and how to plant them correctly in various combinations to create year-round interest in your landscape.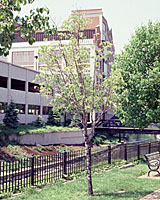 Then, after a quick break for lunch, I'll be back from 2:00 p.m. to 3:00 p.m. to help you avoid killing plants in your landscape and garden during the presentation, Please - Don't Kill Your Landscape! During this talk I'll explain which common "disease" is killing the ornamental pear tree at left. As it turns out, it's a pretty indiscriminate and common killer!
For more information about the Capital District Garden & Flower Show coming up on March 28th through March 30th, click here.
(Please note that the top two pictures on this page were taken by Mr. John Elliott.)