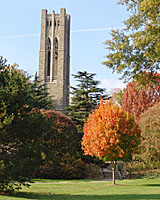 While it doesn't hurt to have a nationally-renown arboretum on your campus, such as the Scott Arboretum of Swarthmore College, at right, it's certainly possible to create a campus landscape that's both visually appealing - and sustainable over time.
In this fourth of an ongoing series of "From the Ground Up" conferences developed by New York APPA, attendees will learn about a variety of sustainable campus landscape design and implementation strategies, and will have the opportunity to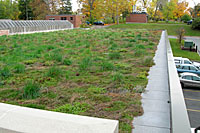 view up close a three year-old green roof installation at the SUNY College of Environmental Science & Forestry, at left.
Of course, there will also be presentations on good, old-fashioned campus horticulture topics including plants with year-round interest, creating stunning container plantings such as those at Cornell Plantations, below right, and techniques for using existing landscape plantings as a sustainable, local source for plants for new landscape establishment.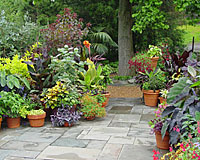 Scroll toward the bottom of this page to learn more about our speakers and their presentations. You can also download a .pdf version of the conference program/registration form here.
Meanwhile, in support of this outstanding educational program, a number of event partners will be on hand to explain how their products and services can play a role in the development and maintenance of sustainable campus landscapes. Confirmed partners include:
East Syracuse, New York
Cicero, New York
Latham, Liverpool, and Blasdell, New York
Syracuse, New York
Jordan, New York
And, finally, to view short video clips of several of the topics our speakers will address, click here.
Assistant Professor, Department of Landscape Architecture, SUNY College of Environmental Science & Forestry
Mr. Toland is deeply involved in the SUNY College of Environmental Science and Forestry (SUNY ESF) campus master planning process that has improved sustainability as a key goal. He will make two presentations during the conference that will focus on strategies for creating sustainable campuses and how these strategies are being used in the SUNY ESF master plan process:
"Assessing the Sustainable Campus Master Plan"
"Sustainable Campus Planning and Management Strategies: A Case Study of the SUNY ESF Campus"
Landscape Designer, Cornell Plantations
In her role as landscape designer at Cornell Plantations, Ms. Lekstutis is responsible for developing landscape planting plans ranging in size from acres to as small as a thousand square foot container garden. Irene will explain how Cornell University utilizes plantings throughout the campus, including summer bedding plants and dramatic containers to provide visual interest year-round in her presentation:
"Year-Round Interest in the Sustainable Campus Landscape"
Director of Grounds and Coordinator of Horticulture for the Scott Arboretum of Swarthmore College
On the staff of the Scott Arboretum since 1990, Mr. Jabco is the point person for implementing and maintaining the Swarthmore College landscape, which is the Scott Arboretum. In other words, he as an intimate understanding of the conflicts that arise as landscape designs come off the drawing board (or computer monitor) and go into the ground, and great skill at resolving those conflicts so as to continually enhance what is already one of North America's most beautiful campuses! Jeff will make two presentations:
"Designing, Implementing and Maintaining Sustainable Campus Landscapes in the Real World"
"The Green Roof Experience at Swarthmore College"
Principal, Terry L. Ettinger Horticulture Consulting Services
Establishing new landscape plantings need not be expensive. Many herbaceous perennials, ornamental grasses, groundcovers, and spring-flowering bulbs are quite easy to dig, divide and replant. And, many flowering shrubs can be propagated via inexpensive hardwood cutting and layering techniques. Terry will address all of these sustainable strategies in his presentation:
"The Campus as a Nursery"