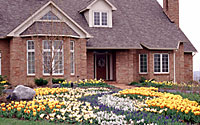 If your landscape is well-designed and installed correctly, it should need relatively little ongoing maintenance - once it's established.
By this, I mean that you should rarely - if ever - need to apply pesticides or fertilizers, and only occasionally water some plants during the most severe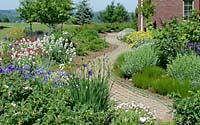 drought conditions. And, maybe best of all, you should never need to prune plants to keep them from becoming too large for the space in which they're planted!
Based on this philosophy, the intent of my designs is to combine trees, shrubs, perennial and annual flowers, vines and spring-flowering bulbs with hardscape elements including sidewalks, patios, decks, retaining walls, water gardens and lighting to create comfortable,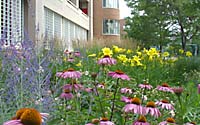 colorful, easy-to-maintain settings that will extend your living space from inside your home or office to the furthest reaches of your property!
So, let me create a landscape design for your home, business or institution that:
Enhances the appearance, function and value of your property.
Reduces the amount of time you need to spend mowing, pruning, watering and fertilizing,
Provides year-round interest outside your window!