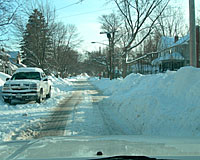 My feeling is that if the calendar says winter (i.e., December, January and February, anyway), then it should be WINTER, at right!
However, at our home in Syracuse, the winter of 2007-2008 will go down as a real bust - gray, slushy/icy, and wet, except for a couple week stretch in the middle of December (when I was visiting my parent's in Illinois)! In fact, after the first of the year, I think I only shoveled the driveway three, or maybe four times??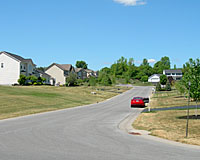 Speaking of wet, though we're pretty much right at normal for seasonal snowfall, at least at Syracuse Hancock International Airport (where lake effect accumulations are greater than within the Syracuse city limits, and where our official weather data is collected), we're 3.3 inches above normal for total precipitation for the year as of March 31st.
Ironically, this is just slightly above last year's above normal precipitation total of 3.1 inches, through the end of March 2007! Of course, you may recall that it then stopped raining the first of May, and many upstate New York lawns were going dormant by Memorial Day, above left. (Click on the 2007 Year in Review link, at right, for the details on last summer's dry weather)!
So, what can you do to satisfy a bad case of spring fever during the next couple of weeks?
Most importantly, get all of your tools and equipment cleaned, sharpened and otherwise ready to make hay when the weather really breaks. Click on the April link at left for more details.
Also, it's alright to start digging, dividing and transplanting perennials and ornamental grasses.
And, finally, resist the urge to spread "weed n' feed" crabgrass products. It's too early to fertilize, and crabgrass infestations tend to be very isolated in most lawns.