Services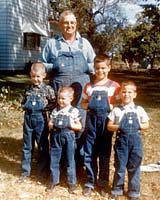 My interest in growing plants was nurtured at a very young age by my parents. They always had a vegetable garden and enjoyed growing colorful dahlias, cannas, and gladiolus, too.
It's also a product of the time I spent as my grandfather's shadow on his northern Illinois farm where my grandparents raised hogs and grew corn, soybeans, oats - and Christmas trees! (I'm the skinny one at left in this picture of my grandfather, Earl Sayers, my brother Tim, and my cousins Scott and Roger taken in the front yard of my grandparent's home.)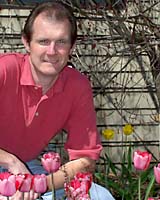 Many years later, ten years of post-secondary education at Southern Illinois University-Carbondale, the University of Minnesota-St. Paul, and the SUNY-College of Environmental Science and Forestry in Syracuse, more than five years as a horticulture specialist with Cornell Cooperative Extension, more than twenty-five years of experience in the field of landscape horticulture and certification as both a New York State Nursery & Landscape Association New York State Certified Nursery & Landscape Professional (#2045) and International Society of Arboriculture Certified Arborist (NY-0814A) - not to mention an absolute passion for what I do, allows me to offer a variety of services that can be found nowhere else in Central New York.
So, please select from any of the services at right for more information on how I can help you.