Overgrown Shrubs and Privacy are Top Inquiries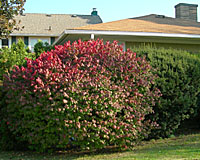 Not too surprising, at least to me, is that there are a lot of people struggling with how to best manage overgrown shrubs. Specifically, visitors to this site want to know how to control the size of burning bush, at right, rose-of-Sharon, and evergreen trees and shrubs. Visitors also want to know when and how far back to prune butterfly bush!
Hand-in-hand with the above concern are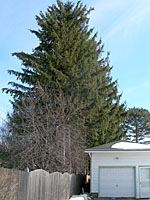 questions relating to the creation of privacy in landscape settings.
My sense is that a lot of people planted the above shrubs, especially evergreens, at left, in an attempt to create a sense of privacy in their garden? However, some years later, they're now trying to figure out how to deal with trees and shrubs that are much too large for the spaces in which they were planted!
In response to these concerns, click on the links at right for more my thoughts on addressing each of these issues.
By the way, if you do a search to find information on the topics at right, you'll quite possibly find that links to the pages on this site have made it to the first results page of many of the major search engines!