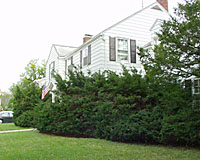 I sort of backed into pulling this list of mature evergreen sizes together in response to the hundreds of questions Iíve received over the years from callers to my radio and television programs, attendees at the many gardening talks that Iíve given, as well as from friends, neighbors, clients and family - all wanting to know when and how to prune overgrown evergreen trees and shrubs! My answer to those questions can be found be clicking here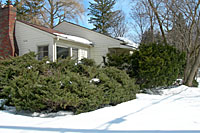 Meanwhile, my proactive response is that we should never need to prune anything (except in the event of storm damage, the occasional dead branch, etc.) if we simply understand how large plants can grow and didn't plant them in spaces that are too small to contain them! This, therefore, is my attempt to help us all understand just how big many popular evergreen trees and shrubs can get over time.
Remember, the plants that have made this list arenít bad plants. In fact, every one of them can be great if given the proper combination of conditions (sunlight, water, drainage, etc.) they need in order to thrive - and plenty of room to grow!
A Study of the Genus Taxus

L.C. Chadwick and R.A. Keen, 1976
Research Bulletin 1086
Ohio Agricultural Research and Development Center
Wooster, Ohio.

Conifers for Gardens - An Illustrated Encyclopedia

Richard L. Bitner, 2007
Timber Press
ISBN 0881928305

Manual of Woody Landscape Plants, 5th Edition

Michael Dirr, 1998
Stipes Publishing Company
ISBN 0875637957 (paperback)
The Dawes Arboretum Conifer Research Reports
These reports are the principle reference for this page. Staff and volunteers at the Dawes Arboretum (located near Newark, Ohio, about 35 miles east of Columbus) measure a selection of the arboretumís more than 6,000 individual conifers on an annual basis. The measurements are taken at five and ten year intervals to evaluate the growth rate of plants over time.
Without question, if you're into coniferous evergreens, this group is for you! In fact, the annual meeting of the Northeast Region of the American Conifer Society will be in Auburn, New York this coming September 14-16!
The website of a small nursery in Eatonville, Washington. It essentially tells the story of its owner, Robert Fincham, who became addicted to conifers in the early 1970ís! Some very interesting reading - especially as it relates to dwarf conifers such as the relatively popular `Montgomeryí spruce, which arenít really dwarf at all.
One of the premier growers of unusual conifers in North America. This website provides good descriptions of hundreds of the conifers that it grows - including expected size after ten years (not at practical maturity, which could be twenty, thirty, or more years). Itís entirely possible that some of the dwarf/unusual conifers you see offered for sale at some Central New York garden centers are products of this Boring, Oregon nursery.
Many botanical gardens and arboretums have significant collections of conifers. Relatively few, however, have large numbers of mature plants. Among the best collections of mature conifers are those maintained at the following locations.
National Arboretum Conifer Collection
If you enjoy gardening, the National Arboretum has to be a must visit the next time, or first time you go to Washington, D.C. The conifer collection is outstanding, and in particular, the Gotelli Collection of Dwarf and Slow Growing Conifers may be the best collection of small conifers in the world!
The New York Botanical Garden in the Bronx features an outstanding collection of mature conifers throughout the grounds - and especially within the Benenson conifer collection.
Home of the world-famous Lilac Festival every May, Highland Park also features a very good collection of nearly one hundred year-old coniferous evergreen trees!