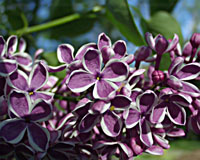 Thanks to the work of many professional and amateur plant breeders, itís estimated that there are between 1,000 and 2,000 named hybrids of Syringa vulgaris ó the common, or "French Hybrid" lilac. Among them are nearly fifty hybrids developed and introduced by former superintendents of Highland Park in Rochester (New York, of course), which are noted by *ís in the list below.
Unless noted otherwise, all of the cultivars below will grow eight to twelve feet tall and wide. Most also produce numerous suckers that can be dug with roots attached as soon as the ground thaws in late winter and transplanted.
`Adelaide Dunbar' *

Deep purple
One of the deepest purple-flowering lilacs.

`Arch McKean' *

Dark purple
Very deep purple on outside of florets and lighter violet inside.

`Avalanche'

Pure white
One of the very best white-flowering common lilacs.

`Belle de Nancy'

Bright pink
One of the most fragrant pink-flowering hybrids.

`Charles Joly'

Deep reddish-purple
Introduced before 1900 and still one of the best, fragrant "red" lilacs.

`Congo'

Intense purple-red
Also introduced before 1900. Very fragrant.

`Edward J. Gardner'

Pink
Dark pink buds open to bright, intensely fragrant florets.

`Katherine Havemeyer'

Pale lavender
Deep purple buds open to very soft lavender flowers. Very fragrant.

`Krasavitsa Moskvy'

Pinkish-white
Pale pink buds open to pinkish-white flowers - very "Victorian."

`Leon Gambetta'

Lilac-pink
Lilac-pink buds open to pale, fragrant flowers.

`Ludwig Spaeth'

Reddish-purple
Introduced in 1883, this hybrid remains available and reliable to this day!

`Michael Buchner'

Light lavender
Old variety (1885) with dark lavender buds that open to light lavender.

`Miss Ellen Willmott'

Pure white
Pure white blooms are very fragrant. Does not sucker.

`Monge'

Magenta
Large (fifteen feet), open shrub bears intensely fragrant, magenta flowers.

`Mrs. W.E. Marshall'

Deep purple
Very deep purple flowers have a light fragrance.

`Paul Thirion'

Reddish-pink
Deep reddish-magenta buds open to reddish-pink flowers.

`President Grevy'

Bluish-lilac
Very old hybrid thatís still hard to replace!

`Primrose'

Creamy-white
Sold as a yellow-flowered lilac, though actually creamy-white.

`Sarah Sands'

Deep red-purple
One of the latest-blooming common lilac hybrids.

`Sensation'

Purple with white edges
Deep purple florets edged in white are like no other lilac blooms - see picture at top of page.

`Silver King'

Silvery-blue
No other lilac exhibits anything close to these steel-blue flowers!

`Wedgewood Blue'

Light blue
Flower color is close to that of Wedgewood china. Fragrant.

`Wonder Blue'

Light blue
Similar to `Wedgewood Blue,í but slightly smaller plant.