Every appliance, tool, electronic device and piece of clothing that you've ever purchased comes with an owners manual or care tag.
Yet, it's likely that you have little or no written instruction - other than from a few random labels - on how to care for the thousands of dollars worth of trees, shrubs, perennials, groundcovers and turf that make up your lawn and landscape! Rather you may be relying on - and possibly confused by - conflicting recommendations of various lawn care companies, tree services and landscape contractors that have done work for you in the past?
I can eliminate this confusion - and possibly save you a considerable amount of money over the years by creating an unbiased management plan for your lawn, landscape and/or garden.
The components of a management plan include: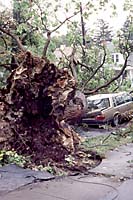 • An inventory, description and assessment of the plant materials in your landscape/garden as well as photographs to document any concerns at the time of the inventory (e.g., insect infestations, damaged stems, improper planting technique, diseases, etc.).
• Short (current year), intermediate (three to five year) and long-term recommendations for the various plant materials and lawn areas. An example of a short-term recommendation would be the removal of a structurally unstable (hazardous) tree that poses an immediate risk to people or property (photo above, at right). A long-term recommendation, meanwhile, might be to eliminate a steeply sloped lawn area after your children are grown and no longer use it as a sledding hill during the winter months (photo below).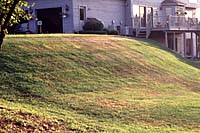 • Instructions on how to implement the recommendations.
• Bid sheets for use in obtaining comparable estimates from several contractors should you choose to hire out the completion of the recommendations I make in the management plan.
The benefit of this service, first and foremost, is that you'll develop a better understanding of the existing conditions in your lawn and landscape through the more than twenty-five years of experience that I have in the field of landscape horticulture and turf management. In addition, because I do not provide any of the services directly (e.g., lawn fertilization, tree pruning, etc.), I have absolutely nothing to gain financially from the recommendations that I make.
So, if you'd like to develop a long-term, cost-effective plan for your lawn, landscape and garden, please contact me at your convenience.