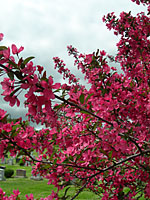 Crabapples can offer everything you could possibly want in an ornamental tree - moderate size, a dazzling display of white, pink or magenta flowers, colorful fruit, and adaptability to a wide range of growing conditions.
Unfortunately, despite hundreds of crabapples being introduced to the gardening public over the past hundred years (some references suggest nearly 900 named varieties), "perfect" crabapple trees are few and far between.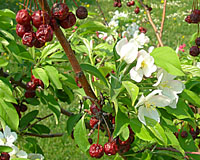 In fact, after reviewing recent evaluations of more than 100 different crabapple trees conducted at Ohio State, Purdue, and the universities of Kentucky, Illinois and Rhode Island, I've identified only sixteen crabapple varieties that combine good ornamental traits – reliable flowering every year and colorful fruit that stay on the plant well into the winter or even following spring (above left) - with good resistance to both apple scab infection and feeding injury by adult Japanese beetles.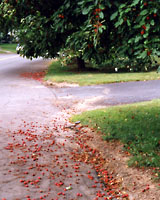 What I found particularly interesting during my review is that none of the university-based evaluations identified any high-performing, red-leafed crabapple varieties. Yet, several of these more disease-prone varieties are often sold by nurseries, garden centers and home improvement centers.
Below is my list of recommended white and pink/red flowering crabapple varieties. They all have "persistent" fruit that remain on the plant well into at least late fall/winter - thus avoiding the sticky, bee and wasp-attracting late summer mess often associated with crabapple trees, above right. And, they all have at least some reported resistance to Japanese beetles and apple scab infection.
Finally, at the very bottom of the page is a list of crabapple varieties that have proven to be very susceptible to apple scab and often drop most of their leaves by late July or early August. Unless you really like bare trees in late summer, my recommendation is to avoid adding them to your landscape!
`Anne E.'

Twenty feet tall and wide - weeping form
Red fruit
Very good resistance to Japanese beetles
Very good resistance to apple scab

`Bob White'

Twenty feet tall and wide
Yellow fruit
Fair to good resistance to Japanese beetles
Very good resistance to apple scab

`David'

Fifteen feet tall and wide
Red fruit
Fair to good resistance to Japanese beetles
Good resistance to apple scab

`Redbud' (M. x sieboldii var. zumi `Calocarpa')

Twenty feet tall and wide
Red fruit
Good resistance to Japanese beetles
Very good resistance to apple scab

`Red Jewel'

Fifteen feet tall and wide
Red fruit
Very good resistance to Japanese beetles
Very good resistance to apple scab

`Sargent' (M. sargentii)

Ten feet tall and wide - wide-spreading form
Red fruit
Very good resistance to Japanese beetles
Very good resistance to apple scab

`Silver Moon'

Twenty feet tall and wide
Red fruit
Very good resistance to Japanese beetles
Good resistance to apple scab

`Silver Drift'

Twenty feet tall and wide
Red fruit
Very good resistance to Japanese beetles
Good resistance to apple scab

`Sinai Fire'

Fifteen feet tall and wide - slightly weeping form
Red fruit
Very good resistance to Japanese beetles
Very good resistance to apple scab

`White Angel'

Twenty feet tall and wide
Red fruit
Very good resistance to Japanese beetles
Very good resistance to apple scab
`Adirondack'

Eighteen feet tall and sixteen feet wide - upright
Orange-red fruit
Good resistance to Japanese beetles
Very good resistance to apple scab

`Louisa'

Eighteen feet tall and wide - weeping
Yellow fruit - sparse
Very good resistance to Japanese beetles
Very good resistance to apple scab

`Prairiefire'

Twenty feet tall and wide
Reddish-purple fruit
Very good resistance to Japanese beetles
Very good resistance to apple scab

`Red Jade'

Twelve feet tall and wide - spreading form
Red fruit - very persistent
Good resistance to Japanese beetles
Very good resistance to apple scab
'Donald Wyman,' 'Red Splendor,' 'Jewelberry,' 'Indian Magic,' 'Spring Snow,' ' Snow Drift,' 'Candied Apple,' 'Robinson,' 'Royalty.'