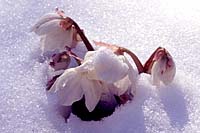 Is anything ever blooming in your landscape on December 31st?
"Nope," is probably your answer unless you have Christmas roses (Helleborus niger) in your garden like we do (photo at right)!
This fascinating winter-blooming trait first inspired me to plant a couple of Christmas roses next to our front walk about ten years ago. After trying my patience for about five years, they finally produced their first creamy-white December blooms in our dry, shady yard. Now that these plants are well-established, however, they're are a couple of feet across and bear dozens of flowers every year from the middle to end of December through early March!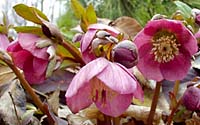 Flush from my success with the slow-to-flower Christmas rose, I've since added about a half-dozen Lenten roses (Helleborus x hybridus) to our front yard landscape. Within just a couple of years these plants have rewarded us with numerous yellow-green, through pink to dusty rose blooms from mid-March through April (photos at left and below).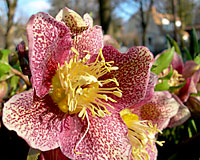 Because Lenten roses hybridize so readily, the number of named hybrids and seedling-grown "strains" has exploded in the past decade. In fact, as a group the dozens of Lenten rose hybrids, known collectively as Helleborus x hybridus, were selected as the Perennial Plant Association's 2005 Plant of the Year.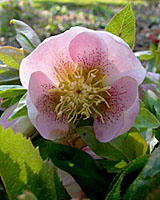 As evidenced by their performance in our front yard, hellebores are tolerant of very dry, shaded conditions under large shade trees. On the other hand, they'll grow even better in gardens having evenly moist, fluffy soils and light shade. Do not, however, try to grow these woodland plants in constantly wet soils or in full sun.
Given their cultural preferences, my experience is that the hellebores can be a great addition to practically any Central New York shade garden! Plant them as specimens along a sidewalk where you can see them as the snow melts in February (hopefully) or March - their clusters of early flowers are great in combination with spring flowering bulbs.
They're also impressive in large masses of dozens of plants under shade trees where they'll reseed themselves quite readily once they're established (photo at right)!
And, after their flowers fade their leathery, dark green leaves provide a perfect backdrop for summer blooming, shade-loving perennials such as hostas, astilbes, etc (photo below, at left). As an added bonus, their lush foliage is deer-proof!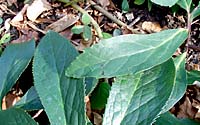 Regardless of how they're used in the garden, hellebores can allow you say something's in bloom in your Central New York garden all winter long!